We love American-made products, especially work boots made right here in the USA. It just appropriate, doesn't it? In fact, we love all kinds — the ones that keep your feet dry, keep your toes safe, hold up on the job or on the go and look great doing it. Here are some of our favorite American-made work boots, along with some history on the companies that make them…
Danner's Quarry USA
Danner makes its work boots in Portland, Oregon. These triple-stitched beauties are built for work and built to last. Danner, which began making their Quarry work boots more than a decade ago, has been steadily improving these by integrating a more durable midsole (12 Iron Vibram) and moving the back stitch to outside of the heel to last longer. The leather upper will just look better with age, and the composite toe (a non-metallic that doesn't transmit heat or cold) with keep your feet safe.
$290 danner.com
Danner History: Charles Danner opened the doors of Danner Shoe Mfg. Company in 1932 in the old logging town of Chippewa Falls, Wis., with 12 employees to build affordable, handcrafted work boots. The U.S. was in the midst of the Great Depression, labor costs were about 30 cents per hour, and leather and other necessary raw materials were dirt cheap. The finished boots sold for less than $4 a pair. In 1936, he moved to Oregon. Danner continues to design and manufacture a complete line of hiking, hunting, uniform, work and lifestyle boots in its world-class factory in Portland, Ore., USA.
Wolverine's 1000 Mile Arctic Grip
Good god, these Michigan-made boots are gorgeous. The Horween Boundary leather is complemented by flat-waxed cotton laces, and built atop a full Vibram Arctric Grip outsole to help with traction on slippery winter days. Inside your feet will stay dry and comfy thanks the waterproof Gore-Tex lining. They'll look great at work and play. And in case you didn't figure it out, the name "1000 Mile" comes from the company's belief that these well-made shoes will give you 1000 miles of wear. We believe them.
$425 wolverine.com/US
Wolverine History: G.A. Krause dreamed of owning a shoe company and tannery that employed his values of quality craftsmanship and incessant innovation. In 1883, he founded a small company with a handful of employees. By 1901, Krause organized the Rogue River Electric Light and Power Company to bring power to Rockford, Mich., allowing him and his sons to build and operate a shoe factory. By 1903, they were making 300 pairs of shoes a day. Krause was a true revolutionary, later selling shares of the company to its own employees, becoming one of the nation's first profit sharing plans. In 1921, flush with success, the company took the name Wolverine Shoe and Tanning Corporation. Wolverine's headquarters still remain in Rockford, Mich., today.
Red Wing's BRNR XP 6-Inch Boot
Assembled right here in the USA, it's hard to go wrong with a pair of Red Wing work boots. A four-layer footbed (including a memory foam layer and gel pad in the heel) make for ultra-comfort even during a long day at work. A triple-stitched toe and heel overlay reinforces these boots against wear and tear. They're also waterproof, insulated, and provide protection from electrical hazards. And, of course, we love the look of these Blackened Toas leather boots.
$220 redwingshoes.com
Red Wing History: At the turn of the 20th century a shoe merchant named Charles Beckman in Red Wing, Minn., saw a local necessity for shoes specifically designed for the demanding work of industries such as mining, logging and farming. The rigors of these jobs required footwear which was tough enough to outlast harsh working conditions, but Beckman envisioned a shoe that was also comfortable enough for the hardworking people who wore them. Beckman set out to develop work boots to fill this need and in 1905 he opened a company that would change the market. Beckman named his company Red Wing Shoes, and a new standard for excellence was born. The company is still headquartered in Red Wing, Minn.
LL Bean's Katahdin Iron Works Boots
These Katahdin Iron Works oxford boots are handcrafted from durable, waterproof leather that gains more character with every wear – and the classic construction ensures exceptional support, comfort, and stability. These rugged waterproof boots are inspired by their original Engineer Boots, which were developed by founder Leon Leonwood (aka L.L.) Bean, "…for Civil Engineers, Contractors and general outdoor workers where the best, as well as the most comfortable, shoes are required." Assembled by the Chippewa Boot Company for LL Bean, these boots feature a classic Munson last and premium Goodyear welted construction for exceptional support and stability.
$269 llbean.com
LL Bean History: In 1911 Leon Leonwood Bean invented the Maine Hunting Shoe. L.L. returned from a hunting trip with cold, damp feet and a revolutionary idea. By combining leather uppers with rubber bottoms, he created an innovative boot that changed footwear forever. In 1912, he promoted his boot in a mailer to out-of-state sportsmen. The rest, as they say, is history.
Carolina Shoe Company's AMP USA Steel Toe
It's time to get serious. Made in Martinsburg, Pa., these six-inch domestic moc steel toe wedge work boots feature a nice weathered-looking leather upper, steel safety toe cap, removable polyurethane footbed, slip resistant polyurethane outsole and they're electrical hazard rated. Best part? They have a layer of memory foam that keeps you comfortable all day or night long.
$195 carolinashoe.com
Carolina Shoe Company History: The Carolina Shoe Company is light on history, but here's what we know: the footwear maker was founded in 1963 as a new division of H. H. Brown. In 2006, they expanded their facility and based in Martinsburg, Pa.
Chippewa's Aldrich Black
Made in America, the Aldrich Black 6-inch tall men's lace-up boot feature a polished black leather exterior and thick black waxed cotton laces for durability. It's crafted for comfort with the Texon Poron cushioned maple leather covered insoles that offer lasting support and the steel shank provides stability. The Vibram Heritage rubber outsole combines traction and slip-resistance on various terrain with a flexible fit so you're guaranteed freedom of movement.
$280 chippewaboots.com
Chippewa History: It all started in a small factory on River Street in downtown Chippewa Falls, Wisc., in 1901. Chippewa Boots continue the tradition today, supplying rugged boots and shoes for every purpose. Built to honor the guts and determination of the loggers and engineers who paved the way, built the roads, and constructed buildings, Chippewa is more than just a pair of boots.
White's Foreman Cristy Crepe Sole Boot
This classic work boot, with full-grain oil leather, has never been more popular. Water-resistant, these boots are equally at home in mud, snow, or gravel, this classic takes White's time-honored quality and combines it with off the shelf readiness that would make its namesake proud. Several color options are available, but these distressed smooth options are our favorite.
$380 whitesboots.com
White's History: The White's Boots tradition has its roots in the logging country of West Virginia back before the Civil War. It was there that Otto White's father and grandfather made calked boots for the logging industry. Today, White's makes its boots in Spokane, Wash.
Carhartt's Composite Toe Work Boot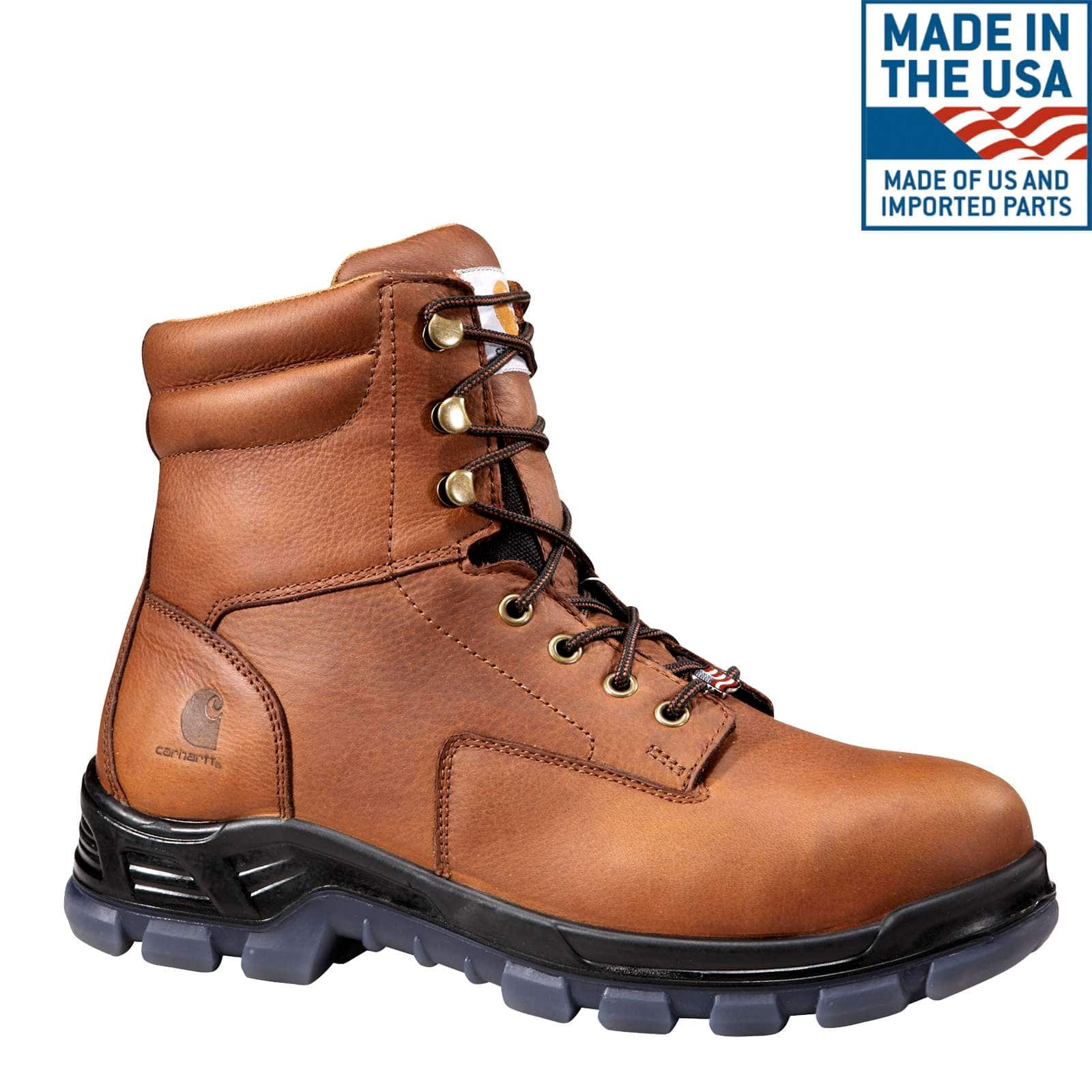 These 8-inch work boots are built for all-conditions durability. Made in the USA, a waterproof-breathable membrane works with a sweat-wicking liner to keep your feet dry and warm in a range of conditions. The rugged outsole grips with confidence over uneven terrain and mixed surfaces. A composite toe protects against impact and compression hazards and meets safety standards.
$185 carhartt.com
Carhartt History: In 1889 Hamilton Carhartt & Company was founded by its namesake (known affectionately as "Ham") and began producing overalls with two sewing machines and a half-horsepower electric motor in a small Detroit loft. By 1910, Carhartt had grown to include mills in South Carolina and Georgia, as well as sewing facilities in Atlanta, Detroit, Dallas, and San Francisco. Over the past 15 years, Carhartt has produced more than 80 million garments and accessories in the U.S. The company also sources heavily from U.S. suppliers such as Mt. Vernon Mills in Georgia (fabric) and YKK Snap USA in Kentucky (snaps and buttons), among others.